ABOUT DARUMA GROUP
Company Information
The challenge from going from a Wellington company to a New Zealand wide
Since being established in 2002, our company has grown to five stores in the central wellington region, receiving thanks from over 370,000 happy customers per year. From here we wish to expand our service to other areas around New Zealand.
The pursuit of our goal
『All for thank you』 すべてはありがとうのために
Just as everyone matures and grows, we follow the belief that our company is maturing and growing, and not unlike how people undergo self-reform, we believe in ensuring that our company grows better with each passing day.
The company's contribution
– Fund-raising activities for schools in Cambodia
– Holding 'Sushi making lessons' for Primary and Intermediate school children
– Supporting the local community
– Supporting those effected by the 2010/11 Christchurch Earthquakes
– Supporting those effected by the 2010/11 Japan Tsunami & Earthquakes
– Supporting Wellington Local Rugby team North Rugby Foot Ball Club
Etc.
Company Outline
Company Name

Daruma Group

Giritta CO. Limited, Hamao New Zealand Limited, Blue Bird Limited

Company President
Kazu Hamao
Members Employed
(as of Mar 2018)
Permanent staff: 27
Casual staff: 77
Branches: Auckland 3, Wellington 4, Central Kitchen 1
Customers of this year: more than 370,000
Company History
2002
Sep
Hamao New Zealand Limited established
Dec
First store opens: KAZU Japanese Restaurant (13 Tory Street, TeAro, Wellington)
2005
Sep
Blue Bird Limited established
Dec
Second store opens: KAZU Yakitori & Sake Bar (Level 1, 43 Courtenay Place, Wellington)
2008
Sep
Third store opens: WASABI Sushi (173 Cuba Street TeAro Wellington)
13 Tory Street established as central kitchen for the area
2010
Jun
Fourth and Fifth stores open: miso Rice & Noodle and Wasabi Sushi (11 Woodward Street Lambton Quay)
2011
May
Online catering service and website Cyber WASABI goes online
Sixth store opens: Wasabi Sushi (James Cook Arcade, 294 Lambton Quay)
Sep
Giritta Co, Limited established
2012
Jan
Japanese small goods website Japan Store goes online
Mar
Seventh Store opens 'Daruma Sushi' First store in Auckland. (451J Ti Rakau Drive, East Tamaki, Auckland)
Jun
Daruma Sushi online store and website opens
Jul
Cyber Wasabi Sushi online store Opens
2015
May
Eightth Store opens 'Daruma Ramen' Second store in Auckland. (451T Ti Rakau Drive, East Tamaki, Auckland)
2016
Apr
Nineth Store opens 'Daruma Sushi' Third store in Auckland. (252 Oteha Valley Albany, Auckland)
2017
Jul
Onefunga, Auckland established as central kitchen for the area
4 restaurant in Wellington, 3 restaurant in Auckland, 1 central kitchen
Sep
「Wasabi Sushi」changes name to「Daruma Sushi」
Oct
「Kazu Restaurant Group」「Daruma Group」renew web site
Management Ideology
Company slogan : 『All for thank you』 すべてはありがとうのために
Company goals
・Satisfying all our customers, no matter how many.
・Company prosperity, Staff wellbeing, Community development, Community wellbeing
・Lifetime goals: provide a good influence on those around us
↓
We wish for our company to be one full of "Thank You's"
Management Ideology
・To employ gratitude, emotion and sensitivity
Gratitude and emotion improves human nature.
・Understanding problems
Providing a solution as soon as a problem is found.
・Continuing is power
Having the confidence in our ability to continue on each day, with this confidence becoming the power to continue.
・The end result is everything
We look to win any and all conflicts as swiftly as possible.
Restaurant operating guidelines
・Delicious food
・Served on time
・Friendly staff
・Friendly faces
・Energetic staff
・Polite staff
・Clean restaurant
President's Message
I live to hear the messages of thanks from all those who visit our restaurants, both customers and staff.
I truly believe that we are influencing an environment that is pleasant for all, and are advancing together with our customers through the good times and the bad.
Whenever I hear the word, "Thank You" from a happy customer, I aim to reflect that gratitude back to all our customers and staff.
By making those around me happy, I am also able to receive happiness from seeing this, and wish to create a life based on these feelings of gratitude and happiness.
Through living a life like this, I am able to continue to refine this life. This is the best part of creating a restaurant business.
I look forward to hearing many more "Thank You's" as we continue to expand our chain.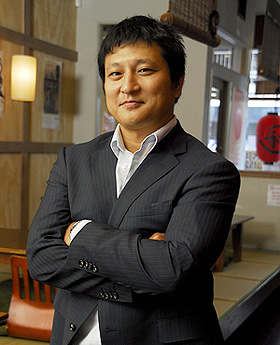 Company President – Kazu Hamao